Although it may sound simple, a healthy spine and good posture are essential for good health. Because I was a patient with a problem spine (back and neck), I have a lot of knowledge about how to improve it. I also worked as a marketing manager for a chiropractor for four years. I have read many articles about spine health and posture and how it can affect your health.
Learn about the importance of good posture and how it can be harmful to your health. Also, learn how to sit properly at a computer while maintaining good posture.
FACTS

Experts believe poor posture, once thought to be an aesthetic problem that makes sufferers look sloppy, is now a major cause of back problems in more than 80 percent of Americans, according to the National Institutes of Health. (Steussy 2018).
Back pain is the leading cause of disability in the world (Mayo Clinic).
*Note: Blog does contain Affiliate links. You may earn a small commission if you purchase something.
My Experience with Bad Posture & Back Pain



My college backpack was always heavy with books, notebooks and my laptop. No matter how hard I tried to stand straight, I would still end up with back problems. Even worse, my dorm had a terrible chair and I would often slump while using my laptop. Although I couldn't do much about my heavy backpack, I could have found a new chair or done stretches every day. It wasn't something I did a lot of.
After a while, I finally saw a chiropractor. It was a scary thing to even consider. It was a daunting idea for me. After I began going, I realized that I should have done it years ago. First, let me say that chiropractors treat the entire body and not just the neck or back. However, I was there to help my neck and back. The chiropractor examined my entire body and determined that my foot needed some manipulation.
He felt my foot and didn't mention my injury. It was a good thing that he found it, otherwise I might have developed arthritis. It is true that many people develop arthritis from injuries that weren't healing if they hadn't seen a physical therapist or chiropractor. Because of the pain, I was unable to wear shoes with even a slight heel for months. After a few weeks, my doctor recommended that I wear a boot and then get off it.
It is possible that I was hurt a few months prior to seeing the chiropractor. After a few weeks of adjustments, my pain disappeared completely. I am certain that if I hadn't gone, I would still be suffering from the pain in my foot.


A pillow that is suitable for your neck will help prevent problems. This is the best pillow I have ever purchased! This is the DreamyBlue Premium Pillow For Sleeping – Shredded memory foam fill [Adjustable Loft] Washable cover from bamboo derived Rayon – for Side, Back and Stomach Sleepers – CertiPUR – US Certified


One of these is for my husband. He used it to relieve lower back pain. It can also help with leg pain, hip pain, joint pain and other issues. ComfiLife Bolster Pillow to Lower Back, Legs, Knees and Lower Back – 100% Memory foam Half Moon Pillow – Semi Roll Pillow For Lower Back Pain Relief.
How to Fix My Back Pain



Let's get back to my back pain. This is a good story. For several weeks, I went twice per week before finally going once per month. Although improvements were slow, I saw significant improvement. Although there are many benefits to seeing a chiropractor every month for checkups, I did not like the fact that it was necessary to keep me pain-free. It was also too often for me personally. I saw a physical therapist who does fascial counterstrain. She fixed problems in my fascia that were more complex than a chiropractor can.
After several appointments, I was ready to go. After a few appointments, I realized I could go for 3-4 months without going to the chiropractor. However, I continue to see the chiropractor for not only my back pain, but also for my long-term spinal health.
When I first went to the chiropractor, he treated my back, neck and foot pains, but also discovered other issues such as my hips. He could see that my one foot was extending more than the other. If you develop this imbalance over time, it could lead to hip problems or knee problems. Chiropractors can help with your back, neck and head, shoulders, elbows, alignment, coordination, medical conditions, injury prevention, and much more. A chiropractor can help you determine your muscle-to fat ratio and give advice on strengthening your body.
This works well for pain in the back and muscles. This is a great product that I have seen used by many people and loved by them. 321 STRONG Foam Roll – Medium Density Deep Tensil Massager for Muscle Massage, Myofascial Trigger point Release and Muscle Massage




Click Here to Buy
Can a Chiropractor be helpful to anyone?



A chiropractor may be the best choice for you if you are suffering from unresolved pain. They are often necessary for your preventative health. It is possible to not realize you have a posture or imbalance until it becomes a chronic problem. Because not all chiropractors are good, I recommend that you get a recommendation from someone you trust. Talk to your doctor as I am not able to give medical advice.
It's important to know that you don't have to crack your joints (I hate this!). It was something I believed was necessary, until I spoke with my chiropractor. He said that there were other options. Find one that is covered by insurance. There are many of them today.
Many of the same issues can be addressed by osteopaths and physical therapists. To address deeper issues at the fascia level, they may offer fascia counterstrain and myofascial relief. But I cannot recommend which one. All of them are relevant and each has something to offer. Each one can be considered equally valuable.


Massages can also help back pain! This was a great gift for Christmas! I know many people who loved it. Shiatsu Neck and back Massager with Heat, VIKTOR JURGEN Deep tissue Kneading Sport Recovery Massagers For Neck, Back, Shoulders and Foot


Spine Health is Important

Bad posture can pose health risks



Your digestive tract can be affected if you slouch too often. Slouching can actually cause problems in your digestive tract. Poor posture can not only cause stress and strain but can also make you feel fatigued faster (Castaneda (2018)
Honesty is my best weapon in describing the problem of posture. This is partly due to the fact that I have other health issues and am fidgety.
What makes good posture?

This image is a good representation of good posture and it's better than me trying explain it.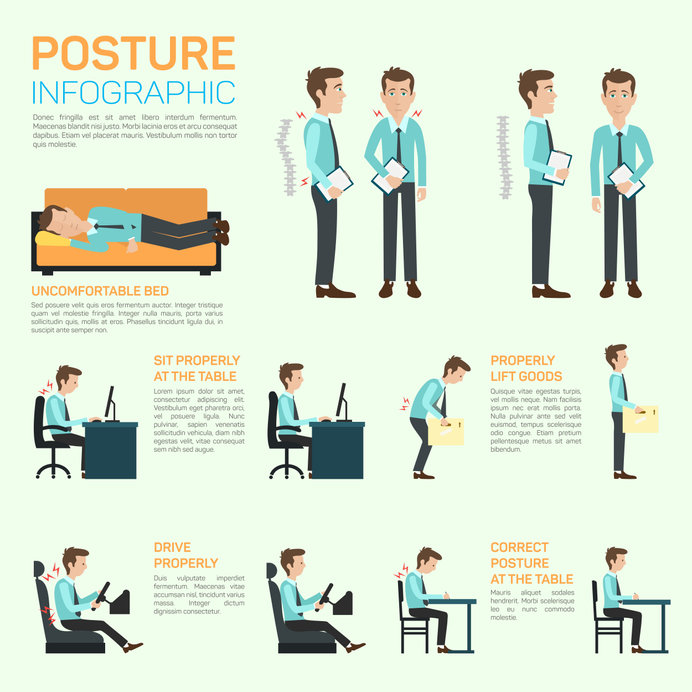 You should ensure your computer is at eye level so you don't strain your neck when looking at it. It shouldn't be placed too low or high. The infographic image shows that his computer screen is not at eye level.


This is what I use for my monitor. This is a great product because it can be adjusted. 3M Adjustable Laptop Stand. Raise Screen Height to Reduce Neck Strain. 3" Height Adjustment. Large Platform for Docking Station.


Soundance Laptop Stand, Aluminum Computer Riser for Desk, Ergonomic Laptops Elevator, Metal Holder, Buy Here
It's not an easy task to choose the right office chair

A few years ago, I went to buy an office chair and was shocked to discover that 90% of the chairs on sale were not suitable for my posture. Many of the chairs I saw did not meet my requirements. Although I found only one brand, it was a used model. However, that doesn't necessarily mean it was cheap or of poor quality. It would be considered lightly used. My chair is new and it retails for nearly $1,000. I bought it for less than $200.
A chair must be supportive of your spine.


This is the office chair I love! It has all the requirements for ergonomic office chairs.
1. You should have an adjustable height (which most of them do). It should have lumbar support. Mine is adjustable, but it isn't essential. It should have armrests. 4. Arm rests must be able to pivot in and out, as mine do. This is the most important feature that chairs lack. Not having your arms supported comfortably while you type or browse the web can not only be exhausting, but it can also negatively impact your posture. 5. You should choose a comfortable seat material, and one that can breathe. 6. The seat width and depth should be sufficient to make a person feel comfortable (generally between 17 to 20 inches in breadth). You should also adjust tilt.
You can read more about it here: Choosing the Best Ergonomic Office Chair. (Note: This website is my number one resource for information regarding Spine-Health. Over the years, I have read an inordinate amount of their content.
In a blog post entitled How Exercise Can Be Natural and Fun, I discussed how sitting for too long can be harmful to your health. Even if you have a good posture, it is important to move around at least an hour.
How to make changes to improve your spine health and posture

Seek out a chiropractor or a physical therapist. A chiropractor can help improve your posture, as I have already mentioned. Many offer suggestions on how to improve your posture, such as stretches and other exercises. A chiropractor is a great option. However, some Physical Therapists and even Osteopaths offer regular spine maintenance. They don't just treat injuries. We call it "Text Neck", because so many people will bend their necks forward while using their phones. Hold your phone so that it is within your eye's reach. Long hours spent talking on the phone can cause neck problems. So consider speaker phone or headphones.Strengthen Your Body. Strength training can improve your entire body, including your spine and posture. Yoga and Pilates are great for strengthening your body and improving posture. Yoga is something I try to practice at least twice per week. This can reduce the need to visit a chiropractor or another professional. Stretching. Yoga can help you do some great stretching. There are also stretches that support the spine. You can also find stretches and exercises for the spine that may improve posture or reduce pain from sitting for a long time. 6 exercises to improve posture and decrease back pain. You can improve your posture by adjusting to your daily life, whether you are standing or sitting. Healthy Diet and Collagen Your Shoes. Proper shoes for walking are also important to the health of your spine. If you do a lot of walking, wear tennis shoes. Not flats.




Sometimes your feet need extra support! These were given to me after my foot was hurt. These are used regularly by my husband, who has no foot injuries. They also have insoles for women! You can buy Dr. Scholl's Float On-Air Insoles for Men, Shoe inserts that Relieve Tired, Achy Feet With All Day Comfort here.
A thick yoga mat is the best choice. The thin, cheap ones can cause wrist pain. BalanceFrom GoYoga 1/2-Inch Extra Thick Anti-Tear Yoga Mat with Carrying Strap




Buy Here
View all Wellness Lifestyle Blog Posts

What it means to live a wellness lifestyle and why it matters
How relationships influence our health (in multiple ways) and our success
Management of 3 Stages (Conscious, Hidden, and Preventing Stress)
Cardio vs. HIIT – Discover the benefits of both!
How exercise can be natural and fun
Nature Calms the Soul, Calms The Mind, and Restores the Body
All You Need to Know about Supplements
How to Get Better Sleep & What to Do When You Aren't Sleeping Well
Important importance of each sleep stage, sleep schedules and more
How to increase water intake and choose clean drinking water
Resources

Neuroscience Specialists/Harmful Effects of Bad Posture. Retrieved from: https://www.neurosurg.org/articles/harmful-consequences-of-a-bad-posture
Integrated Rehabilitation Services/6 The Effects of Poor Posture On the Body Retrieved from: https://integrehab.com/blog/back-pain/6-effects-poor-posture/
Steussy, Lauren. (2018, September 24, 2018). New York Post/Experts claim that your posture is dangerous and can cause serious health problems. Retrieved by: https://nypost.com/2018/09/24/experts-say-your-posture-is-terrible-and-wrecking-your-health/#:~:text=Experts%20say%20that%20poor%20posture,the%20National%20Institutes%20of%20Health
MAYO CLINIC/Back pain. Retrieved from: https://www.mayoclinic.org/diseases-conditions/back-pain/symptoms-causes/syc-20369906
Castaneda, Ruben. (2018, February 1) US News/10 Reasons Poor Posture can Harm Your Health. Retrieved from: https://health.usnews.com/wellness/slideshows/10-ways-poor-posture-can-harm-your-health?slide=4
A weakened spine can lead to many problems. The wellness solution.
Did you miss our previous article…
https://www.stayslimandhealthy.com/health/more-than-30-sugar-free-gluten-free-and-dairy-free-breakfast-options/