Here is a list of 20 dry fruit names in Hindi and English. When shopping, it is easy to get lost in the names of dry fruits.
It happened to me too when I bought dried fruits to help with my weight loss plan. This is why I decided to create this dry fruit list for people like me.
Why is it important to know Hindi and English dry fruit names?
It is quite simple. While we may know the name in our native tongue, we often know it in Hindi. However, when we live abroad or in other Indian cities it is more practical to know the dry fruit name in both English and Hindi.
Let me now show you the top 20 dry fruit names in English and Hindi.
List of 20 top dry fruits names in English and Hindi (PDF).

Dry Fruits English NamesDry Fruits Hindi NamesAlmondBadamCashewKajuWalnutAkhrotSaffronKesarApricotKhubaniDried DatesChuharaCudpahnutChironjiDatesKhajurChestnutSinghara or ShahbalootFoxnuts or Lotus SeedsMakhanaDried FigsAnjeerPeanutsMoonfaliDry CoconutsGadiFlax SeedsAlsi ke BeejRaisinsKishmishPistachioPistaWatermelon SeedsTarbooj ke BeejPine NutsChilgoze or NiozeBeetle NutsSupariPumpkin SeedsKaddu ke Beej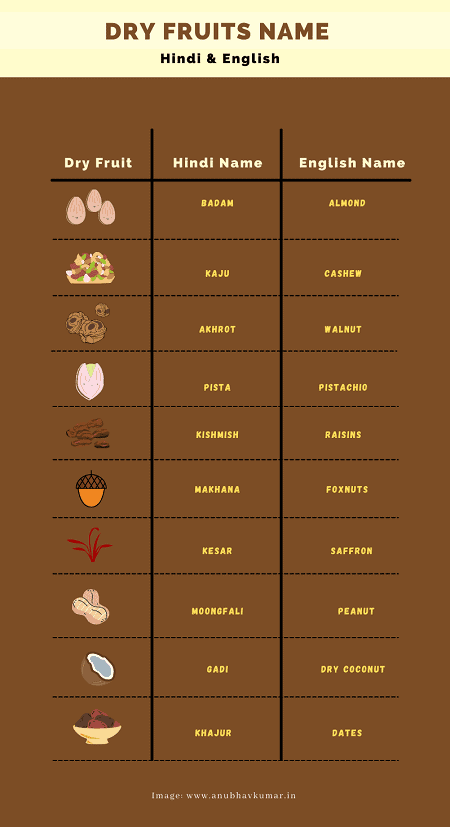 Dry-fruits-names-pdfDownload PDF
Now, let's take a look at 10 of the most popular dry fruits in India, after you've gone through the dry fruit names.
Here is a list of 10 Indian dry fruits that are most popular

Indian dry fruits name in EnglishIndian dry fruits name HindiAlmondsBadamCashewsKajuWalnutsAkhrotRaisins KishmishDatesKhajurDry DatesChuharaBetel NutsSupariPistachios PistaSaffron KesarFoxnuts Makhana
These are the most well-known Indian dry fruits that can be found in every Indian home. These dry fruits are important in Indian cooking and for our health.
Many diet experts will advise people to eat dried fruits every day because they are rich in nutrients and minerals. These dry fruits can add flavor to Indian food, not only from a health standpoint.
Cashew paste is often used in gravies. Sahi Paneer, a recipe rich in dry fruits from India, is my favorite.
Let me now give you a brief description of each dry nut to help you get a better understanding of their names. Here you are
Facts about dry fruits

1. Almond (Badam Hindi)

Almonds are one the most well-known dry fruits in India. Many Indians prefer to soak Almonds overnight before eating them the next day.
This is because Almonds are loaded with health benefits. Doctors recommend that you soak almonds every day.
Almonds are used in Indian snacks and dishes. Some snack brands also sell Almonds as a mix in the market.
Almonds are not only great for snacking, but they're also great in cakes, shakes, and cookies.
2. Cashews (Kaju in Hindi)

When it comes to dry nuts, Kaju or cashew need not be mentioned. Cashews are delicious no matter how you prepare them.
Cashew has a great taste and is full of nutrients and minerals. Let me know if you like cashew.
Cashews were a favorite ingredient in many of my mom's recipes. I still love the taste of them in smoothies and other snacks.
3. Akhrot (Walnuts, English)

Walnuts, or Akhrot in Hindi, look like a human brain. They are actually good for the brain. Our elders advised us to eat walnuts daily to improve our memory and feel better.
I'm sensitive to walnuts so I soak them overnight before I eat them. Walnuts can also be used in cookies, shakes, and biscuits like Almonds or Cashews.
There are two varieties of walnuts on the market. You can choose to have one with a hard shell or the other in a broken form. Before you buy, make sure to know what type of walnuts are available in your area.
4. Raisins (Kishmish Hindi)

Kishmish, or Raisins in Hindi, are dry graph forms. I'm sure you're familiar with them. Raisins are sweet and tangy, and they can be used in Pulao and Kheer as well as sweets.
Don't confuse raisins with monaka. Raisins and monaka are different dry nuts that have similar textures, but differ in size.
Raisins are delicious as they are. While some prefer raisins in Indian dishes, my favourite way to enjoy them is plain.
5. Pista (Pistachios in English)

Pistachios, or Pista Hindi in Hindi, is a dry fruit that has a hard shell. There are two types of Pista available on the market: one with hardshell and one without.
Some brands roast in salt, and then sell on the market. The main use of pista is in Icecreams. Sometimes, it's used as a flavoring in cakes and ice cream.
Pista sweets can be found in any Indian sweet shop. Pistachios, if you ask me are my second favorite dry nuts after cashews. If you're on a weight loss program, be aware of the calories.
6. Dates (Khajur, Hindi)

Khajur or dates are very popular in the Middle East. You will find many dates packets made in Saudi Arabia and other Middle East countries.
Dates are rich in fiber, so they can be used as natural sweeteners. It is delicious and healthy, even though I've used it to make Kheer.
The antioxidants in dates may also be beneficial for brain health. They are also high in vitamins, so many people eat them as a supplement to their vitamin intake.
7. Betel Nuts (Supari Hindi)

English words for Supari and Betels nuts are common in India. You can easily find Betal nuts and Supari in any Indian paan shop.
These nuts are used in Hindu religious ceremonies, and they are part of Prashad's offering of food to God.
Studies have shown that Betel Nuts can help with digestive and cardiovascular problems.
7. Makhana (Foxnuts) in English

Makhana, or Foxnuts as they are known in English, is another dry fruit food and are mostly grown in states such as Bihar. Foxnuts can be found in many dishes when you visit the Northern Bihar region.
Foxnuts are very nutritious and good for those with high blood pressure. They are also rich in potassium, magnesium, and other nutrients.
Fonuts are high in calcium and doctors recommend them to patients.
8. Saffron (Kesar in Hindi)

Saffron is a key ingredient in Indian sweets. Saffron is used in Indian sweets, cookies and shakes as a flavoring agent.
You must have loved Briyani's aroma if you have ever had it. This aroma is due to many flavoring agents, including Saffron.
Saffron is high in antioxidants, which may help in weight loss. Kesar is very easy to incorporate into your diet.
We hope you enjoyed this list of the top 20 dry fruit names as well as some facts about them. If you have any questions, please let me know by leaving a comment.
Disclaimer: The facts, tips, numbers and data on this website and page should not be considered medical advice. We don't guarantee the accuracy of any data or facts on this page. Before following any information, facts or tips shared on this website and page, consult any professional.
Anubhav Kumar. Dry fruits names in English and Hindi List (PDF).
Always check our latest articles at…
https://www.stayslimandhealthy.com//category/weight-loss