In previous articles I've discussed oats recipes. Let's now talk about the benefits and role of oats protein per 100g in weight loss.
This article will share my journey to weight loss with oats. I hope you enjoy reading about my journey and gain some insight.
Oats and their recipes are the most talked about topic when people discuss diet. Keep in mind the important role of oatmeal in weight loss, I will share the nutritional details of oats with you. I'll show you some of the best benefits of oats later.
Let me now show you a nutritional table for oats that will give you details about the nutritional and calorie content per 100g.
Nutrition facts for oatmeal, including protein and calories per 100g

Here are the nutritional facts for raw oats. They show the total calories, fat, carbohydrates, fiber, protein, and protein per 100g.
Information about 100g of raw oatmeal
According to the table above, 100g of raw oats has 389 calories. You get 7.6 grams fat, 17.6 grams fiber, and 66 grams carbs per 100g of raw oats.
100g of oats protein

It will amaze you to learn that dry oats contain between 11 and 17% protein.
The table shows that raw oats contain 17g of protein for every 100g.
Oats are a good source of protein, especially for those who follow a veg diet for weight loss.
Oats are also high in protein and fiber, making them one of the most nutritious foods. For your overall health and muscles, the more protein you consume, the better.
Oats are a high-protein food that is great for weight loss. High-protein foods are great for fighting hunger because they take longer to digest and can be eaten in moderation.
Plain oatmeal recipe, protein and calories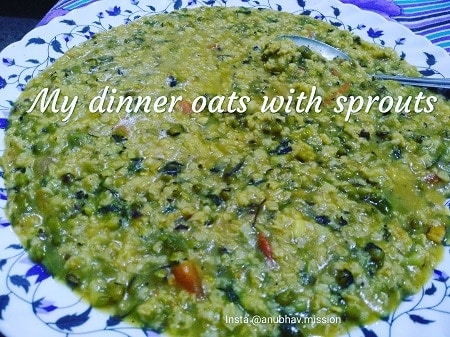 My weight loss journey began with oats. It helped me achieve my goals. Here is the recipe for oats that I prepared during my weight loss journey.
List of ingredients (1 portion):
Plain oats 1/2 cupOnion – 1 medium choppedTomatoes- 1 small choppedCarrot – 1 tbsp choppedBeans – 1 tbsp smaller piecesMustard seeds – 1/2 teaspoonCorriander leaves for garnishCooking oil 1 TbspAsafoetida- A pinchSalt to tasteWater according to your requirements
Method of preparation:
Add oil to a saucepan. Stir in the mustard seeds. Once the mustard seeds have been stirred in, add the chopped onions, and cook them until golden brown. Next, add the chopped carrots, capsicum, and chopped beans to the pan. Stir well. Cover the pan with a lid, and let the water boil for about 2 to 3 minutes. Once the "oats" are cooked, I prefer thicker oats.
Nutrition facts for plain oats and veggies (calories, carbs and protein 100g Khichdi oats)

Here are the nutritional facts for 100g of veg oatmeal khichdi
Nutrition factsApprox valuesProtein2.9 gCarbs9.8 gFiber1.9gFat2.6gTotal Calories74 calories
The 100g serving of Veg Oats Khichdi has 74 calories. Protein is 2.9g, carbohydrates 9.8g, fiber 1.9g, and fat 2.6%.
You can see that 100g of veg oatmeal khichdi provides you with around 3 grams of protein for every 100g of food.
Oats khichdi has only 774 calories per 100g. This is because vegetables are mainly used in the preparation of the recipes. Also, Khichdi can be thinned by adding water to it.
This is how I prepared my oatmeal recipe for weight loss. I would add different vegetables and sometimes change the ingredients to create a different flavor.
Anyone who is on a diet to lose weight will find it easy to become bored. If you're creative enough to invent your own diet recipes, you'll fall in love.
Take, for example. Oats were my favorite meal. It was initially fine, but I grew tired of the same old oats recipes.
I was inspired to try new recipes and add different foods. I can recall adding paneer to my oats and sometimes adding palak or curd. This was how I enjoyed my weight loss journey using oats.
Oats have many benefits

Oats are high in fiber, protein and vitamins. They also have many health benefits. Here are some health benefits associated with oats.
Oats may lower your cholesterol, which can reduce the chance of developing heart disease. Here's the details of the study. Oats are high in fiber which may help you feel fuller and prevent snacking. Oats also contain protein which may promote weight loss and muscle growth.
I hope that you enjoyed this article. It also provided some information about oats nutrition including the protein per 100g serving and calories.
Disclaimer: The data, facts, and figures in this article might not be correct. Although the website admin has obtained data from various reliable sources, the admin cannot guarantee its accuracy. This article is intended to be informational and should not replace professional advice. Before following any of the tips and data on this page or website, please consult a licensed diet expert.
Oats protein per 100g, calories, benefits, recipe Anubhav Kumar.